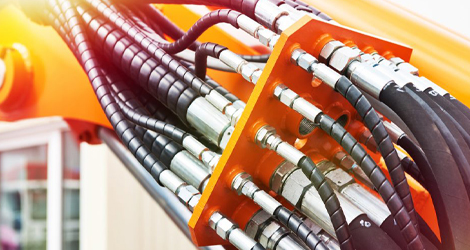 At Mobile Mobile Hydraulic Shack, we understand the critical role of hydraulic systems in the seamless operation of various machinery. Our commitment to excellence and efficiency makes us your go-to partner for hydraulic hose repairs in Guelph. With a mobile service that comes to you, we bring convenience and expertise right to your doorstep.
Our team comprises exceptionally skilled technicians with extensive expertise in hydraulic hose repairs. Whether you're dealing with a minor leak or a major malfunction, we have the knowledge and tools to diagnose and fix the issue promptly. We work with precision and dedication to restore your hydraulic systems to optimal performance.
Mobile Hydraulic Repairs
Experience minimal downtime with our mobile hydraulic repair services. Our proficient technicians are prepared to identify and resolve issues on-site, providing efficient solutions for your hydraulic equipment.
Mobile Hydraulic Cylinder Repair & Rebuild
Trust us for reliable and professional hydraulic cylinder repair and rebuild services. We understand the importance of hydraulic cylinders in various applications and strive to restore them to optimal working conditions.
Hydraulic Fittings & Couplings
We offer a comprehensive selection of hydraulic fittings and couplings to meet the diverse needs of your hydraulic systems. Our commitment to quality ensures seamless connections and improved efficiency for your machinery.
Mobile Hydraulic Hose Crimping
Address damaged or worn hydraulic hoses promptly with our mobile hose crimping service. Our technicians are ready to provide on-the-spot solutions, minimizing downtime and keeping your hydraulic systems running smoothly.
Hydraulic Parts Supplier
As your trusted hydraulic parts supplier, we stock a wide range of high-quality components from reputable manufacturers. Whether you need pumps, valves, or seals, our inventory is tailored to enhance the performance and longevity of your hydraulic equipment.
Hydraulic Fluid Refill
Ensure optimal performance with our hydraulic fluid refill services. Our knowledgeable technicians precisely handle fluid replenishment, adhering to your hydraulic systems' requirements.
Our Process
Assessment
Our technicians begin with a thorough evaluation of your hydraulic system to identify the root cause of the issue.
Transparent Communication
Once the problem is identified, we communicate our findings transparently, providing you with a clear understanding of the necessary repairs and associated costs.
Efficient Repairs
With your approval, we proceed with the repairs using state-of-the-art tools and techniques, ensuring efficiency and precision.
Testing and Quality Assurance
Before completing the job, we conduct thorough testing on the repaired hydraulic hose to verify its compliance with our stringent standards for both quality and performance.
Don't let hydraulic issues disrupt your operations. Contact Mobile Mobile Hydraulic Shack for reliable, on-the-spot hydraulic hose repairs in Guelph. We are prepared to deliver prompt solutions to restore your equipment.
Call us today to schedule a service.