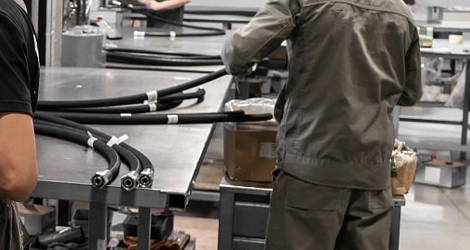 In the heart of Ancaster, where precision meets convenience, Mobile Hydraulic Shack stands tall as your trusted partner for all hydraulic hose crimping needs. Our commitment to excellence, coupled with the flexibility of our mobile services, distinguishes us as the preferred choice for businesses and individuals.
In today's fast-paced world, we recognize the value of time. Mobile Hydraulic Shack brings the services directly to your doorstep. Whether you operate in the industrial sector, agriculture, construction, or any other field, our mobile unit is fully equipped to perform hose crimping on-site. It saves you time and minimizes downtime, keeping your operations running smoothly.
Mobile Hydraulic Cylinder Repair & Rebuild
When your hydraulic cylinders need repair or rebuilding, our skilled technicians will come to you, minimizing downtime and ensuring your equipment returns to optimal performance quickly.
Hydraulic Fittings & Couplings
We offer a comprehensive range of hydraulic fittings and couplings to meet the diverse needs of your hydraulic systems. Our quality products are designed to provide reliable connections and enhance the efficiency of your equipment.
Mobile Hydraulic Hose Crimping
Our mobile hydraulic hose crimping service ensures that your hydraulic hoses are precisely crimped on-site, reducing the risk of leaks and enhancing the overall safety and performance of your hydraulic system.
Hydraulic Parts Supplier
As a reliable hydraulic parts supplier, we stock a wide range of high-quality components. Whether you need pumps, valves, seals, or other hydraulic parts, we have the right products to keep your systems running smoothly.
Hydraulic Fluid Refill
Proper hydraulic fluid is crucial for the efficient operation of hydraulic systems. Our team can quickly and efficiently refill your hydraulic fluid, ensuring that your equipment performs at its best.
Unmatched Expertise
At Mobile Mobile Hydraulic Shack, our highly skilled technicians, whom we take great pride in, bring expertise to every hose crimping project. Whether you require custom fittings, repairs, or a complete hose assembly, our professionals possess the knowledge and experience to meet and surpass your expectations. Rest assured, your hydraulic systems are in capable hands.
We understand the critical role that precision plays in hydraulic systems. That's why we invest in cutting-edge hose crimping equipment to ensure accuracy and reliability in every crimp. Our state-of-the-art machinery allows us to handle a wide range of hose sizes and materials, addressing the varied requirements of our clientele in Ancaster and beyond.
Quality is at the core of everything we do. Mobile Mobile Hydraulic Shack is committed to delivering hose crimping services that adhere to the highest industry standards. We source premium materials and conduct rigorous quality checks to guarantee the longevity and reliability of our hose assemblies. Your satisfaction and the longevity of your hydraulic systems are our top priorities.
Call us to schedule your emergency service.