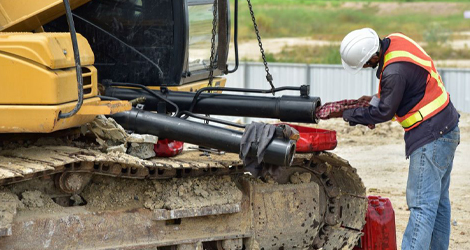 In the heart of St Catherines, Mobile Mobile Hydraulic Shack stands as your go-to solution for emergency on-site hydraulic repairs and services. We understand the critical nature of hydraulic systems in various industries, and our team is dedicated to providing swift, efficient, and reliable solutions directly at your location.
At Mobile Mobile Hydraulic Shack, we specialize in comprehensive on-site hydraulic repairs. Whether you're facing issues with hydraulic pumps, cylinders, hoses, or other components, our skilled technicians are equipped to diagnose, repair, and restore your hydraulic systems promptly. Our goal is to minimize downtime and keep your operations running smoothly.
Mobile Hydraulic Cylinder Repair & Rebuild
Our expert technicians are equipped to handle hydraulic cylinder repairs and rebuilds on-site. We understand hydraulic cylinders' critical role in your machinery, and our mobile service ensures minimal downtime.
Hydraulic Fittings & Couplings
Precise and durable fittings and couplings are essential for a leak-free hydraulic system. We provide an extensive selection of premium hydraulic products fittings and couplings, ensuring the integrity of your hydraulic connections.
Mobile Hydraulic Hose Crimping
A damaged hydraulic hose can bring your operations to a standstill. Our mobile hydraulic hose crimping service lets us quickly replace or repair hoses on-site, ensuring your machinery stays in peak condition.
Hydraulic Parts Supplier
As a trusted hydraulic parts supplier, we provide a comprehensive range of quality components. Whether you need seals, valves, pumps, or any other hydraulic part, we have the expertise to source and supply your needs.
Hydraulic Fluid Refill
Proper hydraulic fluid levels are crucial for the smooth operation of your equipment. Our team is proficient in hydraulic fluid management, offering timely refills to maintain optimal performance.
Experience swift and reliable emergency on-site hydraulic repairs and services in St Catherines with Mobile Mobile Hydraulic Shack. Our skilled technicians bring expertise directly to your location, ensuring minimal downtime for your hydraulic systems. Trust us for prompt, efficient, high-quality hydraulic solutions tailored to your urgent needs.
Are you facing a hydraulic emergency in St Catherines? Don't let downtime impact your operations. Contact Mobile Mobile Hydraulic Shack now for swift and reliable on-site hydraulic repairs. Our experienced technicians are ready to provide the necessary solutions, ensuring your hydraulic systems are back in operation immediately.
Call us to schedule your emergency service.